Saints Row reboot: release date, news and rumors
A Saints Row reboot is in development and it's expected to release later this year.
The new Saints Row is set to be the first original game in the series since 2013's Saints Row 4 and while it's sure to inject enough freshness to feel like a true reboot rather than a direct sequel, it looks like it's still going to pay homage to the tongue-in-cheek, off-the-wall elements for which the series has become beloved.
The game currently has an expected release date of August 23 2022 after being pushed back from its original February 2022 release date. On announcing the delay, developer Volition explained that "due to the size and scope of our new Saints Row, it's become apparent that to create the best game possible, we need to give our team longer to perfect their craft."
August really isn't all that far away now, though, so we're keeping a keen eye out for news and updates as the new release date draws closer because, as a series that's known for defying convention, we're looking forward to seeing more from what we can expect from Saints Row. In the meantime, keep reading to find out everything we know about the game so far.
Saints Row reboot: cut to the chase
What is it? A reboot of Saints Row
When can I play it? August 23, 2022
What can I play it on? PS4, PS5, Xbox One, Xbox Series X/S and PC
Saints Row reboot release date and platforms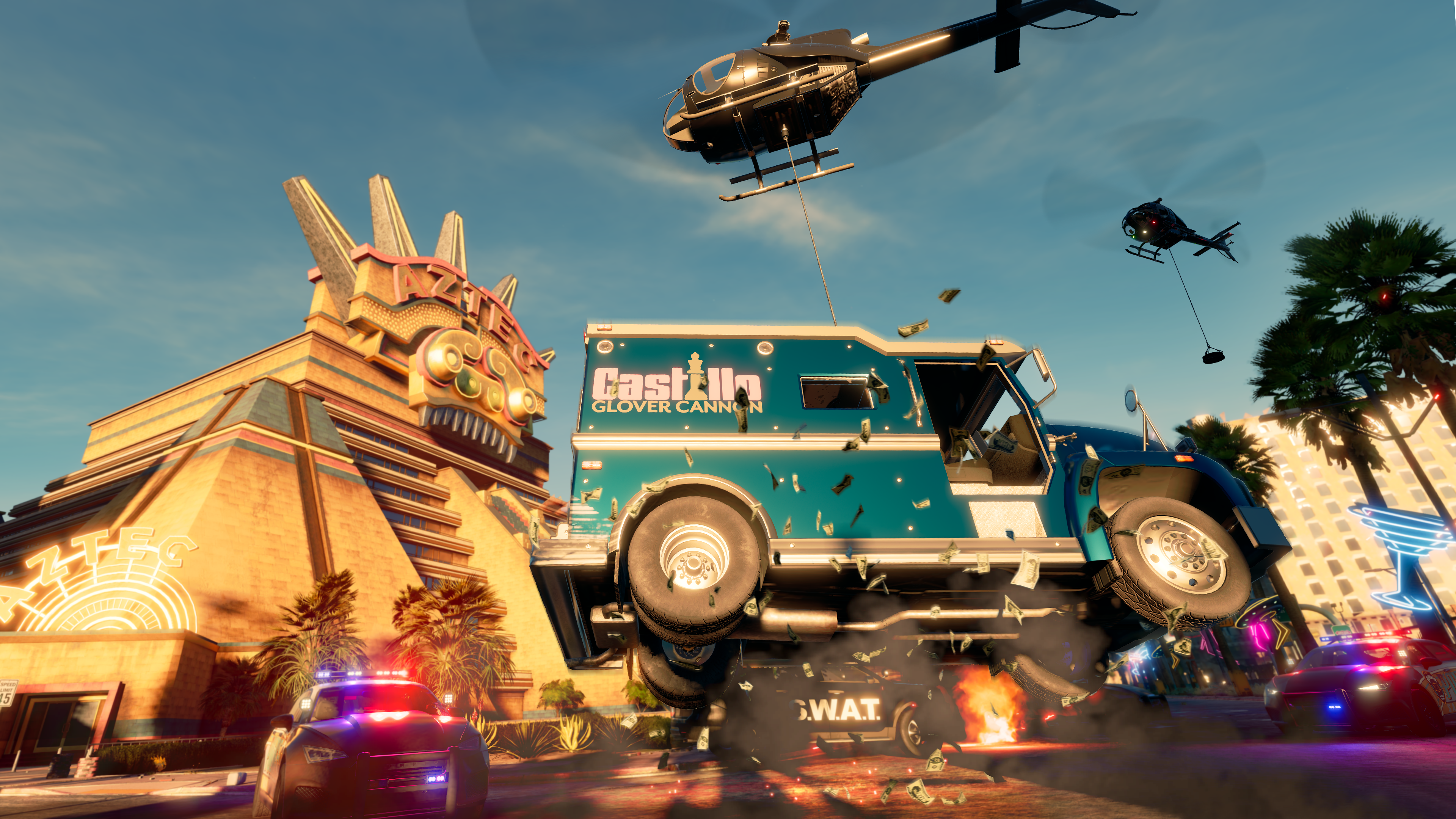 The Saints Row reboot will release on August 23, 2022 for PS4, PS5, Xbox One, Xbox Series X, Xbox Series S and PC.
Saints Row was meant to release on February 25, 2022, but developer Volition announced in November 2021 that the reboot had been delayed to allow for extra development time.
"Our priority is to create the best Saints Row game yet and, if we released on the original date, it wouldn't be up to the standards we've set ourselves, and that you're expecting and deserve," Jim Boone, Chief Creative Officer of Volition stated in a press release. "The team just need more time to do our vision justice; we're doing some fine tuning and there won't be much change in the game outside of overall quality and polish.
"In all honesty, we underestimated the impact COVID would have on our schedule, although everyone adapted very quickly to the working from home arrangement and continued to be incredibly productive.
"However, due to the size and scope of our new Saints Row, it's become apparent that to create the best game possible, we need to give our team longer to perfect their craft."
Saints Row trailers
Want to see all the Saints Row reboot trailers in one place? We're rounding up every trailer for the game so you don't have to waste your time scouring the internet to find them all.
Saints Row - The Game Awards 2021 gameplay trailer
We've been given another glimpse at Saints Row, as a new gameplay trailer was released during The Game Awards 2021. The trailer shows off some of the game's customization options, combat, and typical bonkers moments the series is famed for.d
Saints Row criminal ventures
Learn how you can build your empire in Saints Row. You'll take your gang from upstarts to running a criminal empire, and you'll get to choose how you do it. Check out the new trailer below.
Saints Row Districts of Santo Ilesco
Check out the city of Santo Ilesco in the latest Saints Row trailer. You can see some of the districts and territories that the three factions control below.
Saints Row Official Announce Trailer
A beautiful CGI announcement trailer for Saints Row was revealed during Gamescom 2021, showing the types of antics you'll be getting up to when the game arrives in 2022. Check it out below.
What is Saints Row?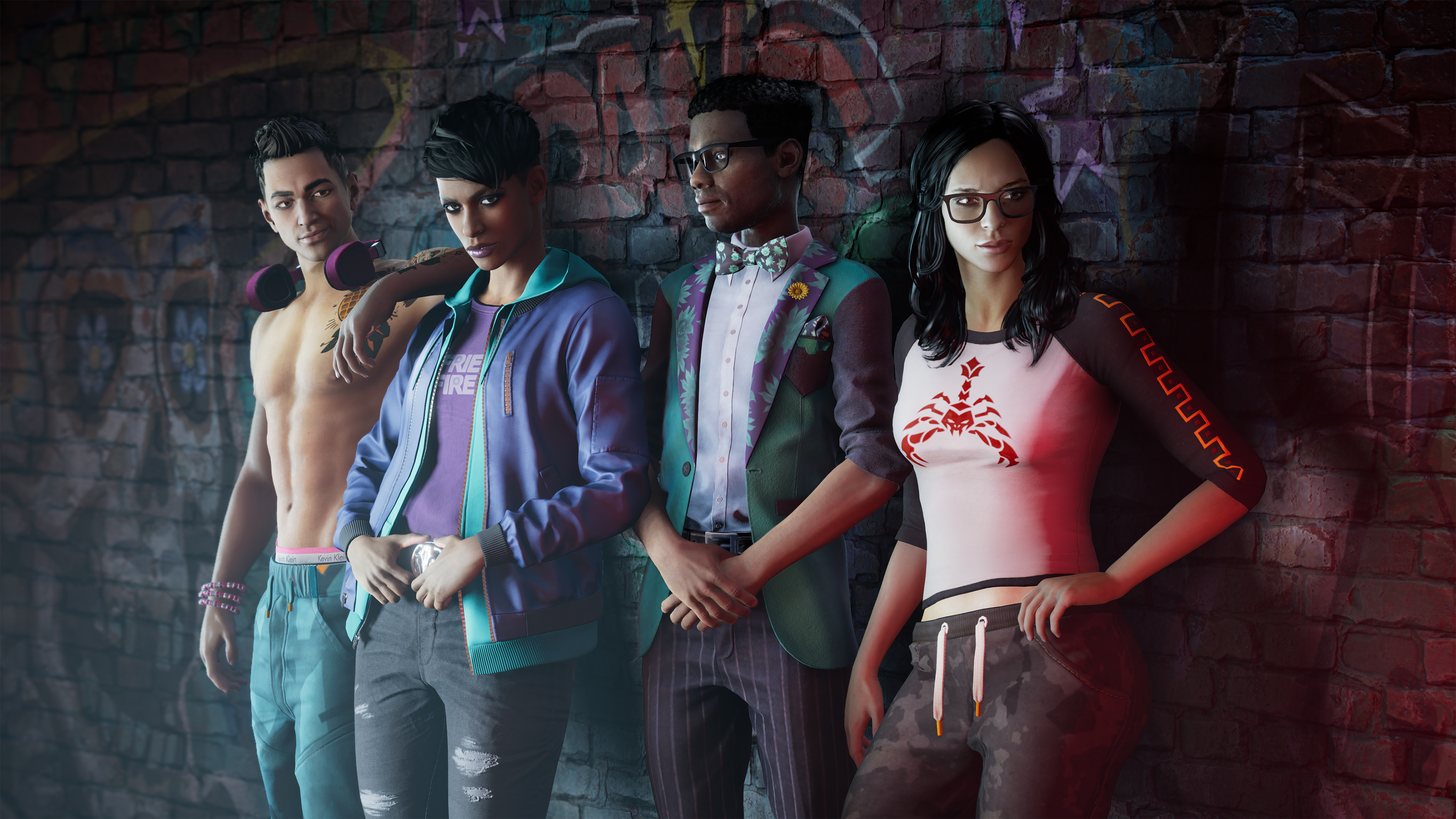 Saints Row started off as a fairly straight bat competitor to Rockstar's colossal Grand Theft Auto series. Released in 2006, Saints Row was an Xbox 360 exclusive, though the game's sequel, Saints Row 2, did make its way to PlayStation 3.
Both games were perhaps unfairly labeled as GTA clones, which led to developer Volition ripping up the rulebook for Saints Row: The Third. The move to being as daft as feasibly possible was generally well-received, particularly as there's a growing number of gamers who miss the days when Grand Theft Auto didn't take itself so seriously. The decision to let loose at least helped Saints Row carve out its own audience, and avoid further comparisons with Rockstar's iconic series.
Saints Row reboot editions and pre-order bonuses
The Saints Row reboot is now available for pre-order but you have a few editions to choose from and the one you choose will come down to whether you're looking to get a physical or digital copy or the game and how much additional content you're looking to get thrown on top of the base game. We've described the various editions of Saints Row below, as detailed by the official site.
Standard Edition (physical and digital)
Gold Edition (Digital)
Base game
Saints Criminal Customs
Los Panteros American Muscle Bundle
Expansion Pass
Platinum Edition (Digital)
Base game
Saints Criminal Customs
Los Panteros American Muscle Bundle
Expansion Pass
Saints Row The Third: Remastered
Criminal Customs Edition (Physical)
Base game
"The elaborately styled Saints Custom Convertible"
The "signature Saints Custom Stab Jacket"
Notorious Edition (Physical)
Base game
Saints Criminal Customs
Los Panteros American Muscle Bundle
Expansion Pass
SteelBook and physical items including poster, artbook and postcards
Legacy Edition (Physical)
As spotted by Wario64 on Twitter, a Legacy Edition of Saints Row has appeared at US retailer Best Buy, which includes the following:
Base game
Expansion Pass
Saints Row The Third: Remastered digital code included in box
Pre-order Bonus
Pre-ordering any edition of the Saints Row reboot gets you the Idols Anarchy Pack which features "a selection of stolen neon equipment", including the Idols DJ Helmet, the Twinkle Bat and Sandstorm Scrambler.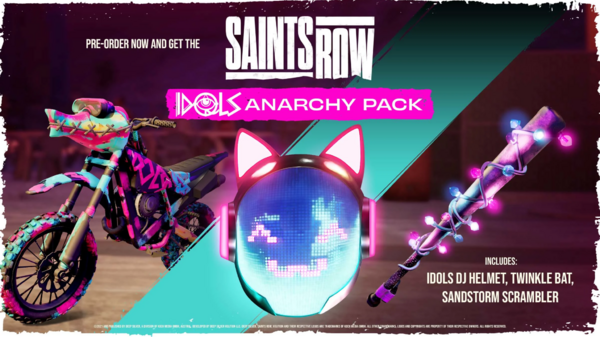 Saints Row reboot gameplay and setting
The Saints Row reboot seems to use the original game as a very loose blueprint, and sprinkles over some wacky touches to inject some more fun and vibrancy into the overly serious first game. Expect a lot of crude jokes, unthinkable weaponry and a general tendency to turn things up all the way to 11.
The Saints Row franchise has taken players to the depths of hell, given us superpowers and giant foam heads, but now we know the game will take place in an entirely new city: Santo Ileso (set in the America southwest).
Rather than starting as a kingpin, the Saints Row reboot sees players on the role of custom character "The Boss", who teams up with three unhappy friends/gang members, Kevin (a DJ), Neenah (a mechanic), and Eli (the entrepreneur), to start their own criminal empire. The Saints, as the gang is known, is formed with the aim of taking control from the Santo Ileso's currently residing gangs.
Santo Ileso is controlled by three main criminal gangs: Los Panteros (gas monkey fitness fanatics), The Idols (the party gang) and Marshall Defense Industries (a private military corporation). The city itself is broken up into nine districts, which The Saints will aim to gain control of throughout the game, with districts including gambling casino El Dorado and rural town Rancho Providencio.
As you secure districts, you'll be able to set up criminal businesses (with legitimate fronts, obviously) to help finance your gang. But Saints Row isn't all about business, you'll also be able to utilize a selection of weapons and vehicles to make your climb to the top of the criminal ladder as enjoyable as possible. Expect a more comprehensive create-a-character option than what was available before, too, and all-new missions and side quests to complete.
In addition to playing solo, you'll also be able to play Saints Row multiplayer, with drop-in drop-out co-op multiplayer also available.
Developer Volition promises that the Saints Row reboot will be the "biggest and best Saints Row playground ever created" and that the world of Santo Ileso is the perfect place for "criminal ventures and blockbuster missions, as you shoot, drive, and wingsuit your way to the top".
Saints Row reboot news and rumors
Want to know the latest Saints Row reboot news? You've come to the right place. Below, you'll find all the biggest announcements about the Saints Row reboot that you won't want to miss, so make sure you check back regularly to stay up to date.
Crossplay co-op
Volition has confirmed that the Saints Row reboot will include "cooperative play across console generations", meaning that those on PS4 should still be able to play with those on PS5 and vice versa.
A brand new story, but some Easter Eggs
Volition has confirmed that the Saints Row reboot features a brand new story, that doesn't fit chronologically with any other games in the series, but the developer has hinted the new game could include some Easter Eggs for previous titles.
"We have little nods here and there to some of our previous mascots and things like that, but it is a brand new story," Jim Boone, Volition's COO, told Polygon.
Grounded but outrageous
In the same interview with Polygon, Jeremy Bernstein, Saints Row's lead mission narrative designer, explained that the Saints Row reboot is more "grounded" than its predecessor, but that doesn't mean the game will be too straight-laced.
"While this is a more grounded game than Saints Row 4, it's hard not to be a more grounded game than Saints Row 4, honestly," said Bernstein told Polygon. But, "We're still going to have outrageous antics; we're still going to have lots of fun. This is not a grimdark Saints Row."
Cars as weapons
The Saints Row reboot takes inspiration from films such as John Wick, Baby Driver and Hobbs & Shaw. This inspiration influenced how vehicular combat is approached in the new game and led to the decision to remove cruise control.
"We did spend a lot of time with a driving model to try to make it as drivable as possible," Boone told Polygon. "You will still be able to fire out the window like you could in previous games, but we've gone a different route in terms of the way the car combat works. You're using the car more as a weapon in Saints Row than you are using your firearms. As a result of that, we didn't feel like we needed to try to come up with that cruise control mechanic from the past."
Saints Row reboot website is live
A website for the Saints Row reboot is now live, and shows a brick wall covered in various graffiti. The most prominent piece of spray-can art can be found in the middle of the wall, and says "rebooting". It doesn't take a detective to figure out, then, that we're getting a Saints Row reboot.