NVIDIA GeForce NOW will make you rethink what cloud gaming really is
You've probably heard a lot about cloud gaming. The game library isn't big. You've got to re-buy games you already own. It's inferior to PC gaming. The lag makes most games unplayable. Depending on the cloud gaming platform, some of these things may be true. But NVIDIA is setting the record straight with GeForce NOW. The technology has come a long way, and the performance and features on offer can provide parity with PC gaming in ways you likely didn't realize.
The graphics aren't that good?
If you've tried to stream content over a poor internet connection, you might run into bad visuals. But with a strong internet connection, you'll realize just how much power is under the hood in GeForce NOW to provide exceptional visuals. NVIDIA offers an RTX 3080 membership for GeForce NOW that provides an experience the vast majority of gamers aren't getting out of their gaming PCs or consoles. There's enough muscle there to deliver 1440p at 120fps or 4K HDR. Nvidia's RTX real-time ray tracing is also available to provide life-like reflections and lighting, a rendering technique that takes serious power and will make a lot of computers sweat.
And all of that power is running behind the scenes, in the cloud, so you can enjoy it on your phone, MacBook, streaming device, or even a modest Chromebook. Just about whatever you can connect to the internet with and connect a controller or keyboard and mouse too. Running that heavy processing in the cloud also means the electric bill and heat in your room aren't going up like they would from a local PC.
The lag makes games unplayable?
If your internet is having a lag spike, your online games are going to be unplayable whether you're using the cloud or a local system. But with fast internet, you'll find GeForce NOW more than up to the task of offering a responsive gaming experience. NVIDIA's servers offer stable performance that can help provide consistent frame rendering times, helping minimize that component of lag. With the RTX 3080 Membership, you'll get a boost from even faster frame rendering and more efficient encoding. On a modest internet connection, your inputs will likely feel as responsive as gaming on a console. NVIDIA also has plenty of tips on optimizing your latency. As NVIDIA has expanded its service, you'll have an easier time finding servers that may be closer to you (and therefore reduce ping).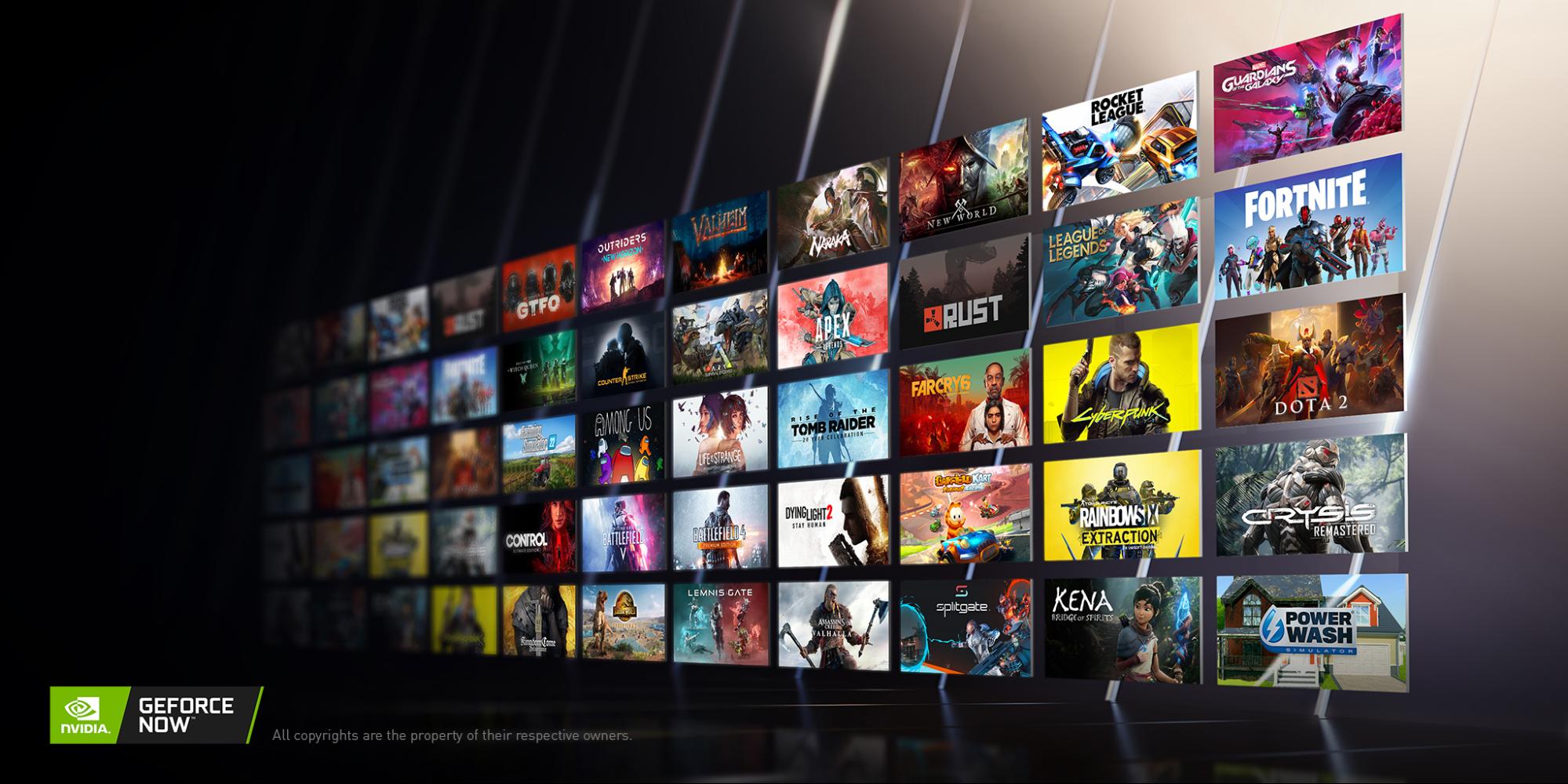 There aren't enough games?
If you're looking at the wrong gaming service, it might feel like there aren't enough games to play. If you look at the huge list of titles supported on GeForce NOW, you might change your mind. GeForce NOW has a library of more than 1,000 games, including AAA titles from the most popular publishers like EA Ubisoft, Epic, and more as well as critically acclaimed indie hits. Its library includes graphically stunning games like Cyberpunk 2077 and Far Cry 6 with RTX On and DLSS for superb visuals and exceptional performance. The service also offers almost 100 free-to-play titles, including industry titans like Fortnite, Apex Legends, and Destiny 2.
You've got to pay for games you already bought?
Depending on the cloud gaming service, you might have to buy a game again even though you already have it in your PC gaming library. Fortunately, NVIDIA GeForce NOW isn't one of those services. This subscription is for the PC gaming rig in the cloud, not for the games. In fact, you can log into Steam, Uplay, Epic Games Store, and GOG.com to access your libraries and play supported games through GeForce NOW. Not only do you not need to re-purchase them, you also don't need to wait to download them or update them. That's especially handy if you like to game on a lot of different devices. You won't be downloading the game a half dozen times, and you won't even have to find storage space for your games. The amount you'd need to spend on storage to keep a thousand games available on all your devices at a moment's notice makes the $10-$20 subscription cost of GeForce NOW look like even more of a bargain than it already is.
You can't play with your friends?
You have to be on a console to game with your console friends, and you have to be on a PC to game with your PC friends, right? That's just it — when you use GeForce NOW, you are using a gaming PC. That gaming PC is in the cloud, but it's still a gaming PC. You can link up with your friends just the same as if you were on your own local PC. For games that support cross-play, you won't miss out on that functionality either.
If you're still skeptical about cloud gaming, why not let NVIDIA GeForce NOW prove it's the real deal. You can sign up for a subscription here to reap all the benefits of the service, from 4K HDR or 1440p/120fps to near-instant game downloads and PC gaming across a huge range of devices. You can even try the service for free to get a taste. And if you think it's good now, you should know it just keeps getting better. To stay up to speed on all the new games and developments on the service, you can tune in weekly for the GFN Thursdays blog or follow GeForce NOW on Facebook and Twitter.