Project Cambria: All there is to know about Meta's rumored Oculus Quest Pro
With Facebook's transformation into Meta and its embrace of the metaverse, 2022 is shaping up to be an important year for new virtual reality (VR) and augmented reality (AR) headsets. Following on the huge success of the Oculus Quest 2 will be Project Cambria, a top-of-the-line headset currently in development from Meta.
Project Cambria was first announced at the Meta Connect conference in October 2021. Dubbed "the Oculus Quest Pro" by eager fans and pundits, Project Cambria is a high-end virtual reality and augmented reality hybrid headset. This would make it distinct from the Oculus Quest 2 (and eventual Oculus Quest 3), in being aimed at for the pro and enthusiast end of the mixed-reality market.
Meta boss Mark Zuckerberg described it as "a completely new advanced and high-end product," which will sit "at the higher end of the price spectrum."
With Apple said to also be working on high-end virtual and augmented reality devices, not to mention the imminent launch of the PlayStation VR 2 headset from Sony, Meta will be looking to shore up its position across the spectrum of all things VR.
Interested? You should be. Here's everything you need to know about Project Cambria so far.
Project Cambria: Cut to the chase
What is it? Meta's top of the line headset, the cutting edge of what's currently possible in wireless virtual reality, unrestricted by the affordability constraints that penned in other Oculus headsets
When is it out? Meta has committed to a 2022 release for the headset.
What will it cost? A leaked internal roadmap suggests that Project Cambria will cost $799 (around £640 / AU$1,125)
Latest News
May 3: Meta's VR hardware roadmap has leaked, giving us details about its next four headsets, including the price and specs of its next VR headset: Project Cambria.
April 29: On a recent Meta earnings call, Mark Zuckerberg said Project Cambria will focus on productivity rather than playing video games. Over time the Meta CEO hopes that it'll replace our laptop and work setup.
April 28: The roughly 30-minute Meta Quest Gaming Showcase highlighted several exciting new Quest 2 games that are headed our way over the coming year, including Among Us VR and Cities: VR. No mention of new hardware, however.
April 15: Unofficial renders using leaked info from the supply chain may offer insight into Project Cambria's design.
April 12: Tech analyst Ming-Chi Kuo predicts that Meta will soon refresh its VR headset with improved screen resolution and new mini LED displays. This newly upgraded Quest headset is slated to drop in "2H22" (the second half of 2022).
More of the latest Project Cambria tidbits ▼
Feb. 26: The company formerly known as Facebook is disbanding the team working on an all-encompassing VR and AR operating system with the name XROS. Cambria will run an Android-based OS, in other words.
Feb. 17: Full-body tracking won't be coming to the Meta Quest 2 anytime soon according to a statement from the vice president of Meta Reality Labs, Andrew Bosworth. But those leaks weren't wrong, just premature, Bosworth said. Will it come to Cambria?
Feb. 8: The most recent release of the Quest 2 Software Development Kit (SDK) – a set of tools designed to help the platform's game and app developers – includes an option for 'body tracking support'.
Oct. 28, 2021: As part of Facebook's push to introduce multiple new mixed reality products "advancing the state of the art" in years to come, Mark Zuckerberg lifted the lid on Oculus' next VR headset at Facebook Connect 2021 – Project Cambria.

Price and release date
Despite the secrecy shrouding Project Cambria, we have surprisingly detailed information about what it will cost and when the device will be available. Meta has committed to a 2022 release for the headset.
But when precisely that launch will take place is hard to pin down -- we know, we know. The original Oculus Quest launched in May of 2019, with the Oculus Quest 2 following in October 2020. That's roughly 18 months apart; by that reckoning, May of 2022 would seem an appropriate guess.
Development timelines between products can be different, of course, and with the ongoing pandemic and supply chain issues plaguing all kinds of consumer tech products, we wouldn't bet the house on any date.
What is guaranteed, by Zuckerberg's own admission, is that this will be a more expensive device than the $299 / £299.99 Oculus Quest 2. And a leaked internal road map published by The Information suggests that Project Cambria will cost $799 (around £640 / AU$1,125) and will be about as powerful as a Chromebook – and it will run on Meta's own Android-based operating system.
Hardware
Meta has been candid already about what to expect from the Project Cambria hardware, which will be markedly more advanced than any Oculus headset that came before it.
Based on the best Chromebooks you can currently buy, as well as the specs of the Meta Quest 2, it sounds like Project Cambria will have at least 8GB RAM and likely around 256 GB of storage. We'll also likely see its processor get a boost, too. But Meta may have to design its own chip, as Qualcomm has yet to launch a follow-up to the Snapdragon XR2 that powers Meta's Quest 2.
We've also previously heard that Cambria will incorporate dual mini LED displays that will likely offer a 120Hz refresh rate (to improve upon the Quest 2's "experimental" 120Hz feature).
Unofficial renders based on "the supply chain" emerged in mid April and appear to show a forward-facing camera. It's thought that this will enable mixed reality or augmented reality support, where digital elements are overlaid over scenes in the real world.
Beyond the speeds and feeds, we know Project Cambria will be a standalone, wireless headset. That's not to say it won't be able to connect to a PC for PC VR experiences (or even connect wirelessly to a powerful host PC, like the Oculus Link feature), but since the end of the Oculus Rift line in 2021, Meta's focus has purely been on cable-free (out of the box, at least) VR hardware. This will also set it apart from the upcoming PlayStation VR 2, which will not only be more of an entry-level device, but will also still need a wire to connect it to the PS5 console.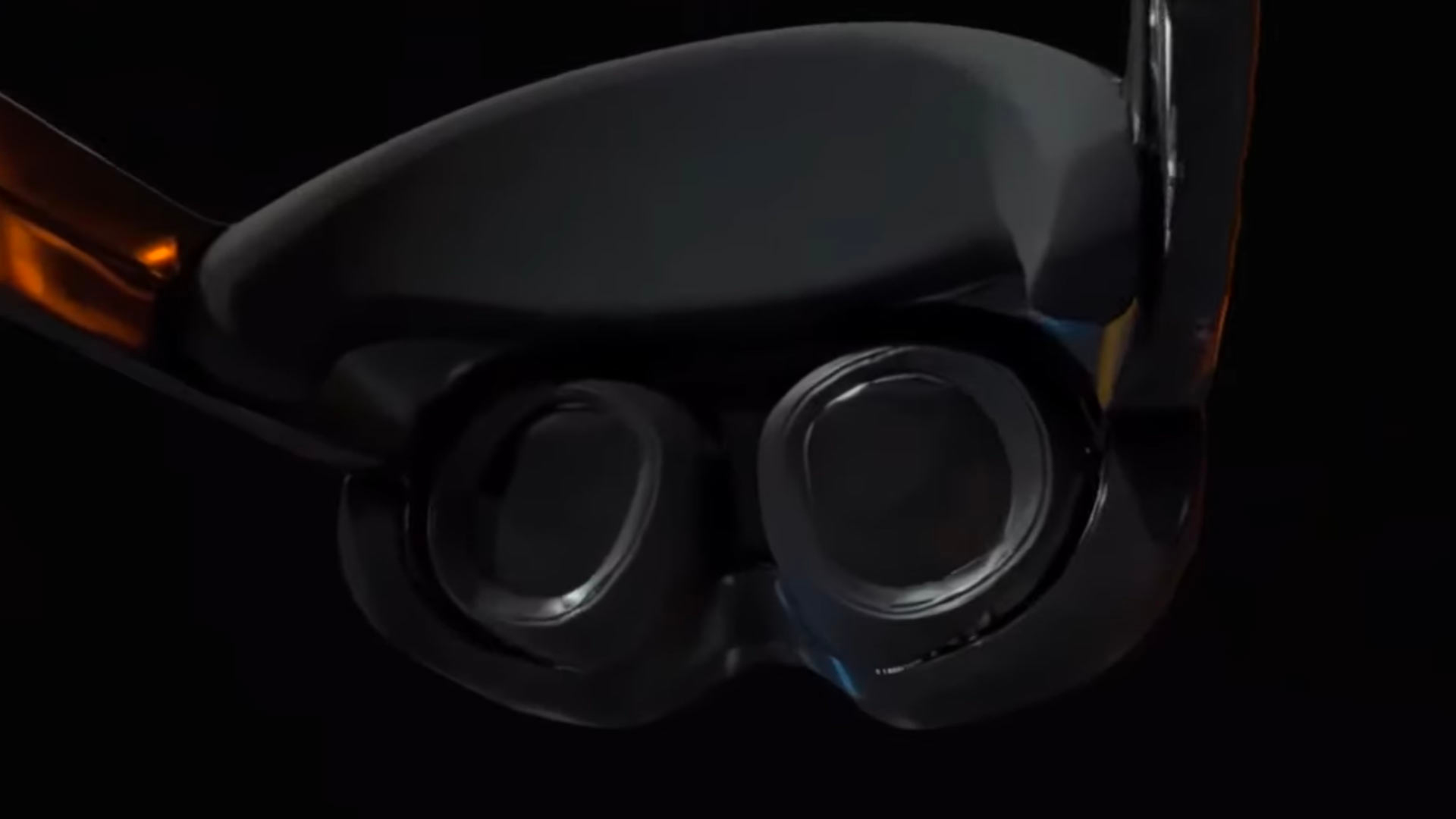 Software and features
Meta was apparently working on the development of a combined AR/VR operating system -- and hit pause on it back in February, so the upcoming headset will not have a completely new software platform arriving along with it. According to the latest rumors, based on leaked internal road maps, Project Cambria will run on Meta's own Android-based operating system.
One much-requested feature will finally get its moment in the spotlight – eye tracking. It's an important aspect of the way humans interact with the world, and a readily-exploitable tool for developers of advanced virtual reality applications. With eye-tracking, devs have another form of user input to play with, not only letting them better understand where a user's gaze is focused (and tailor interactive experiences appropriately), but also to take full advantage of foveated rendering.
In short, foveated rendering makes sure that the area of the display a user is focused on is displayed in the greatest possible detail, while the surrounding areas of a virtual environment aren't shown in such high fidelity - much like how the human eye masks peripheral vision. It can be used to maximize device resource usage – pumping processing power only onto the fidelity of objects and areas that a user's gaze is interacting with. It's a hugely exciting part of the future-VR puzzle.
Likewise, face tracking will be on board Project Cambria. This will allow in-game avatars to mimic your facial expressions in real time, potentially even opening up accessibility functions such as lip reading. So far however, both eye tracking and facial tracking are mainly expected to be used for avatar-based features – but their potential usage could go way beyond that.
Many of these features can be seen in action in the video below – what is believed to be an orientation video for new users of the Project Cambria headset, which leaked ahead of the announcement for Project Cambria:
Project Cambria will go beyond virtual reality experiences however, and will lean ever more into the augmented reality features that are increasingly becoming available to Oculus Quest users.
Supporting this will be the introduction of high resolution color passthrough features. The Oculus Quest 2 uses an array of head-mounted cameras to present the world outside of your headset on the internal displays – primarily for safely tracking your real-world play space, in real time. But the current Quest devices can only offer a black and white view, at a relatively low resolution.
Project Cambria will make this sharper and in color, expanding the potential for augmented reality experiences. It's not quite the same as having transparent lenses, as seen in HoloLens or the hibernating Magic Leap headsets, but Cambria's augmented reality will also benefit from the expanded field of view that internal VR lenses can currently offer over transparent alternatives.
Design
Project Cambria, while remaining a head-mounted unit, will look rather different from existing Meta hardware, thanks to the use of new lens types.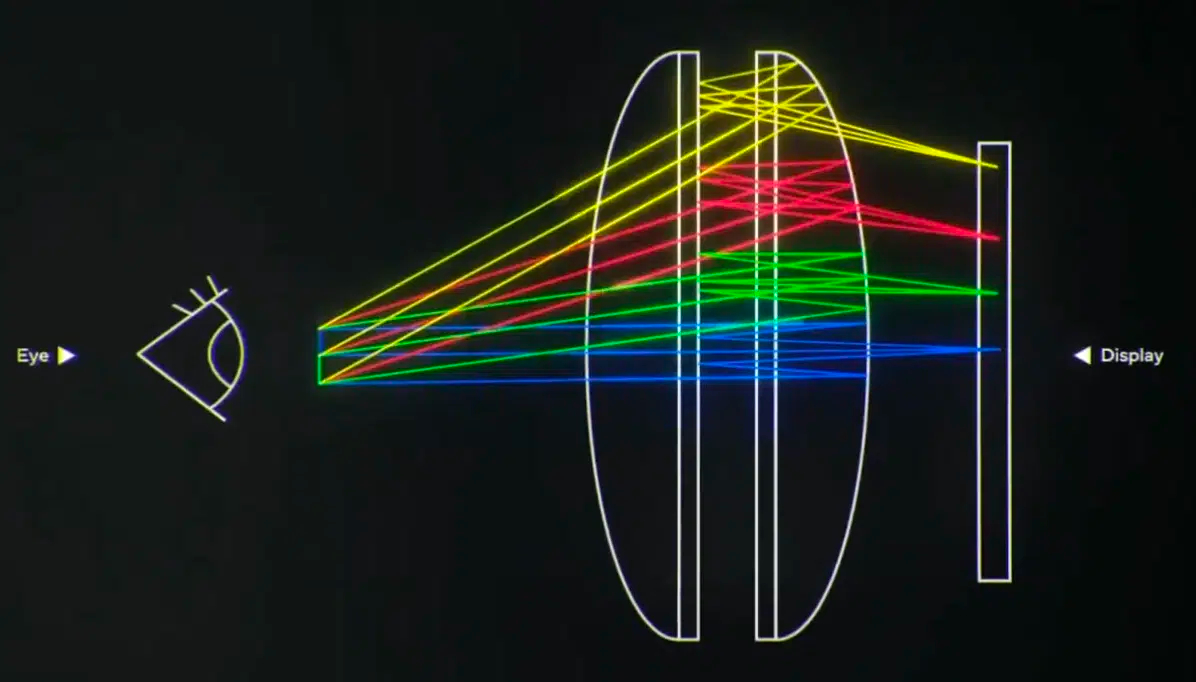 These "pancake" lenses have a thinner profile, reportedly resulting from their use of mini LED panels. Sharper and cooler to run, this is expected to allow Project Cambria's front area to be much less bulky than that of the Oculus Quest 2, boosting both comfort and resolution.
With a new industrial design afforded by the new lenses, VR data miners have been able to reconstruct what they believe Project Cambria will look like by creating 3D models from render textures. You can find them in the video above and tweet below:
Project Cambria https://t.co/NnHWBJgUZK pic.twitter.com/oD2nD6aFePNovember 2, 2021
If the sleuthing here points to the real product, the headset will be returning to the darker outer shell design of older Oculus devices, with considerable shaving of the depth off the frontmost element of the headset.
A more pronounced padded forehead rest could be in the cards too, as well as more padding on the rear part of the strap. In conjunction with the apparent reduced weight, these features could lead to a much more comfortable headset than the Oculus Quest 2, taking cues from the Rift S and PlayStation VR, whose front forehead rests lead to very ergonomic fits.
So what about the controllers in those renders…
Controllers
Project Cambria's motion controllers look significantly different too. While retaining the disc-on-a-wand design the Quest controllers have popularized, you'll note that Cambria controllers appear to be lacking the tracking ring earlier models have.
This seems to be afforded by the inclusion of infrared tracking cameras on the controllers themselves. You can see this in both the above renders and the below apparent leaked controller photos, all said to be from a Facebook / Meta Workplace video conference. (Workplace is Meta's internal Slack / Teams solution).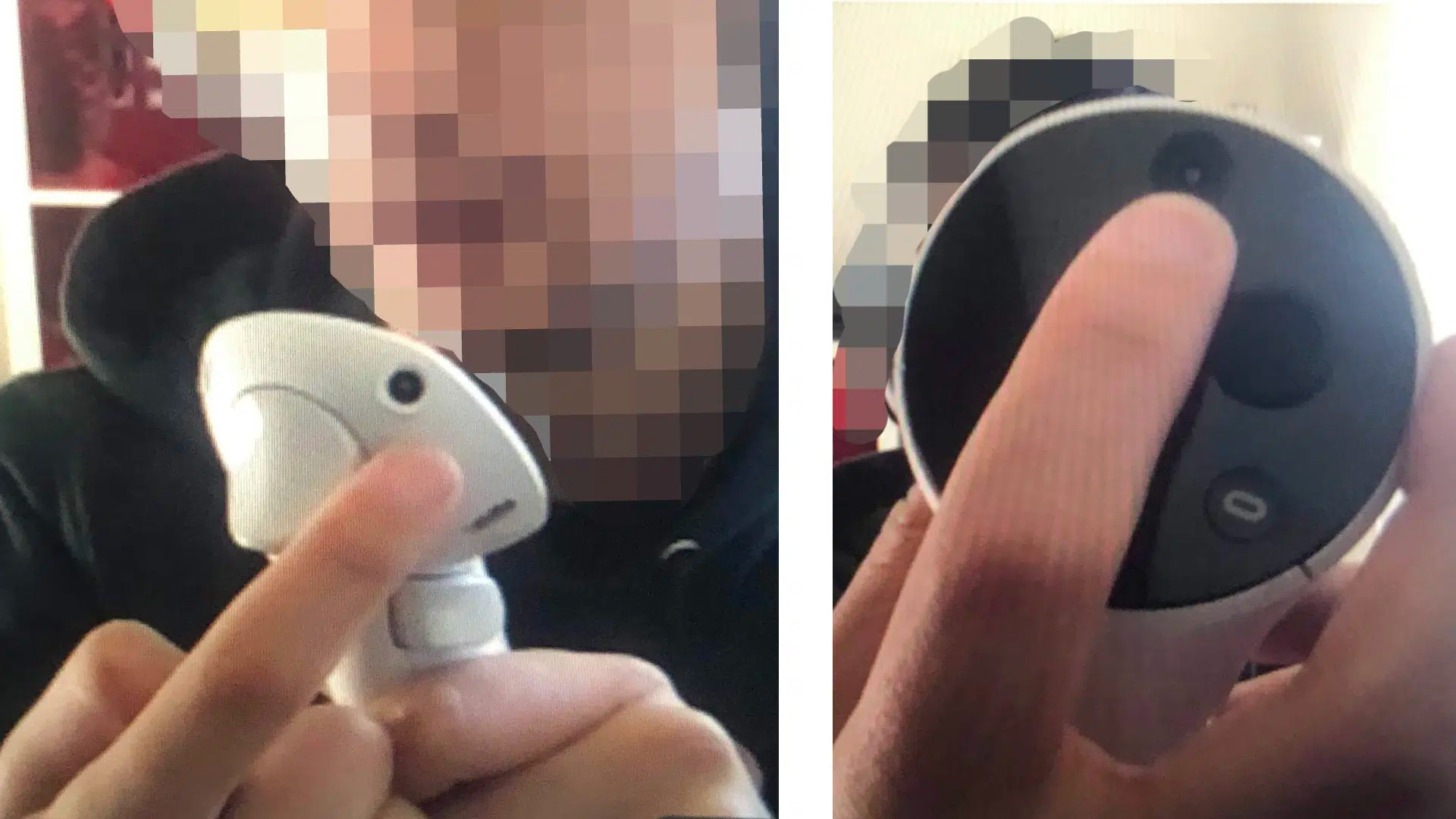 Whether a prototype, or a fake, there's definitely a correlation between the texture renders and this controller – which also suggests a white colorway may be in the cards for Project Cambria. Dropping the tracking rings would presumably lead to a lighter controller, and reduce the friction between user and VR experience. Previous firmware leaks have suggested that some form of laser-tracking system between the controllers and headset will ensure the two remain in sync and in communication.
Expect hand tracking to increasingly be the norm in VR and AR too; the tracking and processing improvements expected to be found in Project Cambria should help to make the device more accurate and comfortable in day to day use.
What about Oculus Quest 3?
Rest assured that the Oculus Quest 3, now more likely to be known as the Meta Quest 3, will still likely launch as a separate offering from Project Cambria.
Speaking with The Information, Zuckerberg stressed that the Oculus Quest line has a long life ahead of it. "We have product teams spun up now working on the next few generations of virtual reality and what Quest 3 and 4 are gonna look like," Zuckerberg stated on the podcast.
Consulting CTO John Carmack also reinforced the idea that Project Cambria represents an expansion of the line, rather than a replacement to existing devices whose price point gives them wider appeal.
"An important point here is that the 'project Cambria' product will *NOT* replace Quest 2; it will be sold alongside it," Carmack said. "Quest 2 will have a long life."
What will likely happen is that, going forward, Project Cambria will debut the most bleeding-edge VR features for enthusiasts, with those features being implemented later down the line in cheaper, successive Quest devices.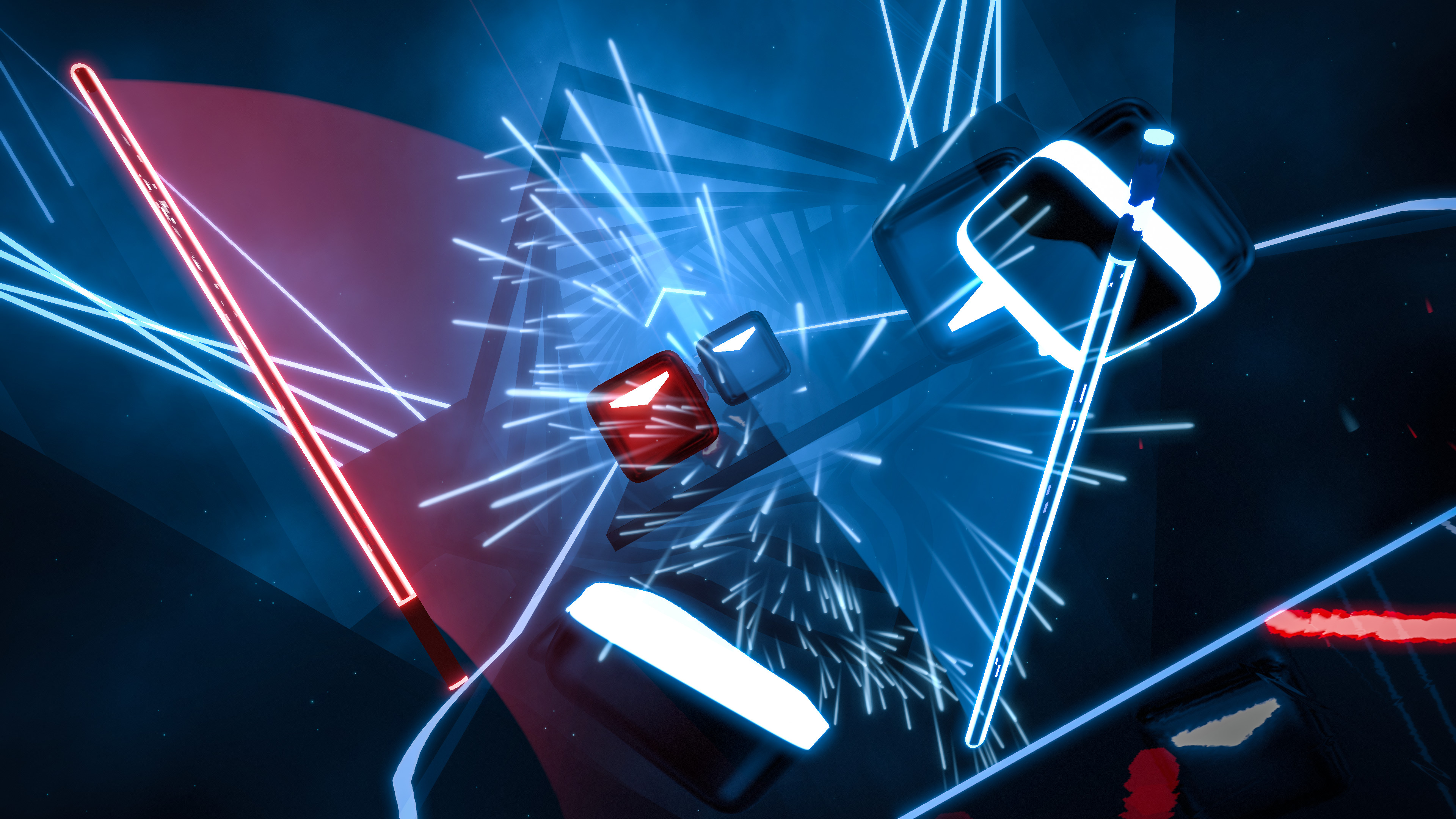 Backwards compatibility with Quest titles
There are now thought to be as many as 10 million Oculus Quest headsets in homes around the world, and it appears Meta has no intention of alienating its existing userbase by encouraging them to re-buy their VR libraries for any eventual Project Cambria headset.
Just as Oculus Quest titles were compatible with Oculus Quest 2, Project Cambria is said to have "compatibility" with the Quest. While Meta hasn't explicitly referred to this as "backwards compatibility," it's hard to understand this any other way. Certainly, the aforementioned orientation video explicitly references Beat Saber in its visuals – perhaps the most popular existing Oculus Quest title of all.
How many of the newer headset's new features will be taken advantage of by the older software remains to be seen however, though even a more ergonomic form factor could breathe new life into old titles.