Best Xbox Game Pass Streaming Accessories in 2023
Getting yourself one of the best Xbox Game Pass streaming accessories is an ideal way to step up your experience when on the go. Microsoft's premiere cloud gaming option works effortlessly with both iOS and Android devices, so if you want to make the most of the gaming potential out of your handset then you're in the right place. We've rounded up all the latest and greatest clips and controllers for your convenience.
Whether you're rocking one of the best gaming phones or just one of the best phones in general, you're sure to be satisfied with our top picks for the best Xbox Game Pass streaming accessories. There are more options than ever when it comes to gamepads and grips for more traditional controllers as well. If you're someone who wants to take the best of Xbox Game Pass Ultimate wherever you are you'll be right at home with these budget and premium offerings.
We think highly of the Xbox Series X and if you're wanting to know how to maximize your Microsoft gaming setup then we're here to help. We're also rounding up the best Xbox Series X accessories for the best Xbox Game Pass games, too.
Best Xbox Game Pass Streaming Accessories in 2023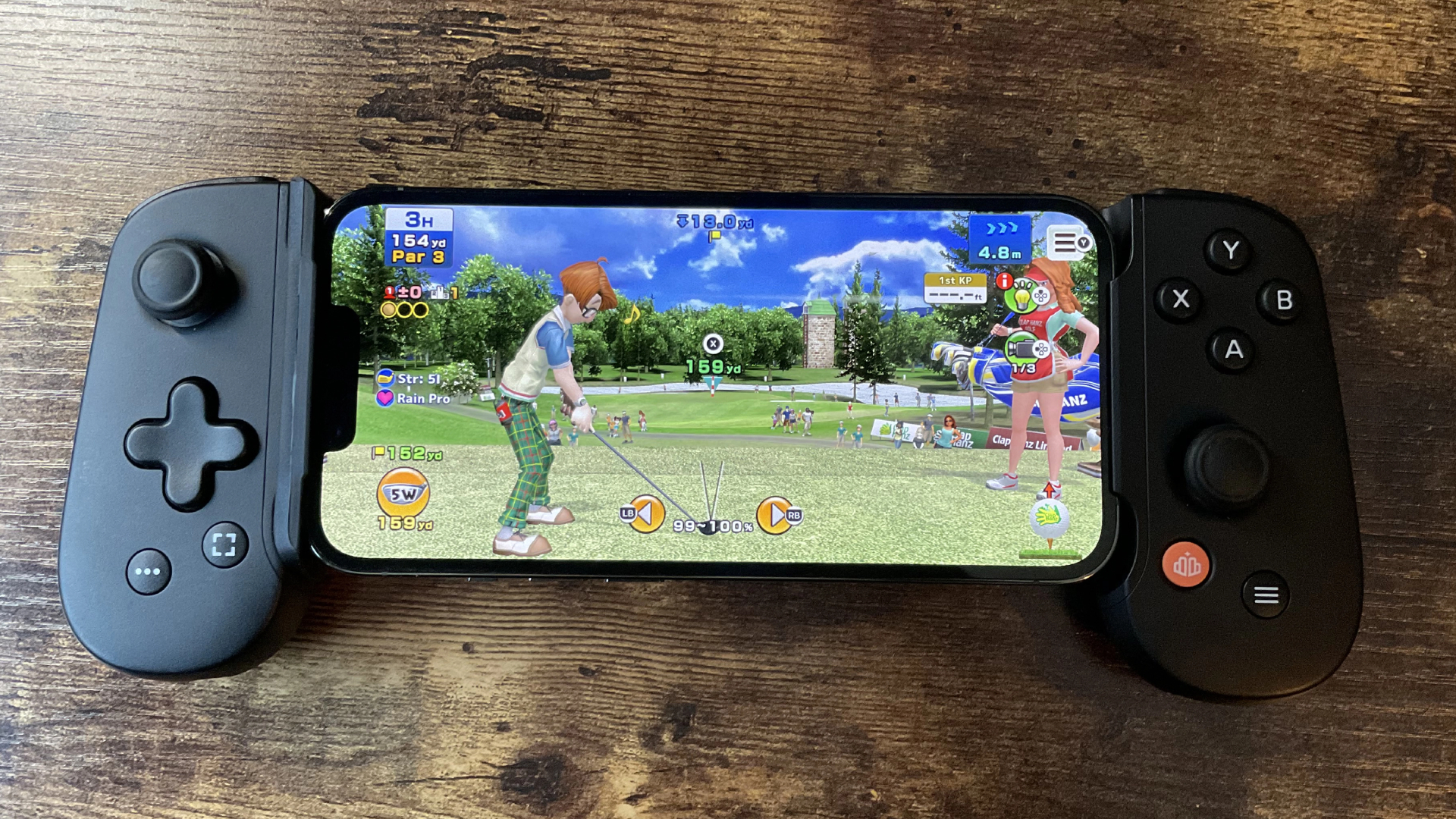 The Backbone One iOS easily stands takes our top spot for the best Xbox Game Pass streaming accessory if you've got an iPhone handy. There's very little that we were able to fault this mobile controller on in our testing, as we found its overall construction to be head and shoulders above many other offerings in its price bracket.
The Backbone One iOS retails for $99.99 / £99.99 meaning it's not quite the cheapest offering you'll find to get rigged up to Xbox Game Pass, but we think it justifies its reasonable price tag with its excellent build quality and features. The sticks and buttons here feel on par with the latest console controllers, and we found in our testing that the iPhones of choice were held in securely but not too tightly, too.
The only thing we can slight the Backbone One on is that you're not going to be able to use many iPhone cases with it due to the snug fit. This is likely fine if you've got a thinner covering, but there's a high chance you'll need to slot your Apple device in without that layer of protection.
There's also intuitive software here that you won't find from some similarly priced competitors either. This includes the likes of button mapping as well as screen capture and social overlays, meaning that it's really easy to get creative if you're someone who wants to record or take snapshots as you play Xbox Game Pass streaming games. Nothing really compares if you're an iOS user for the money really.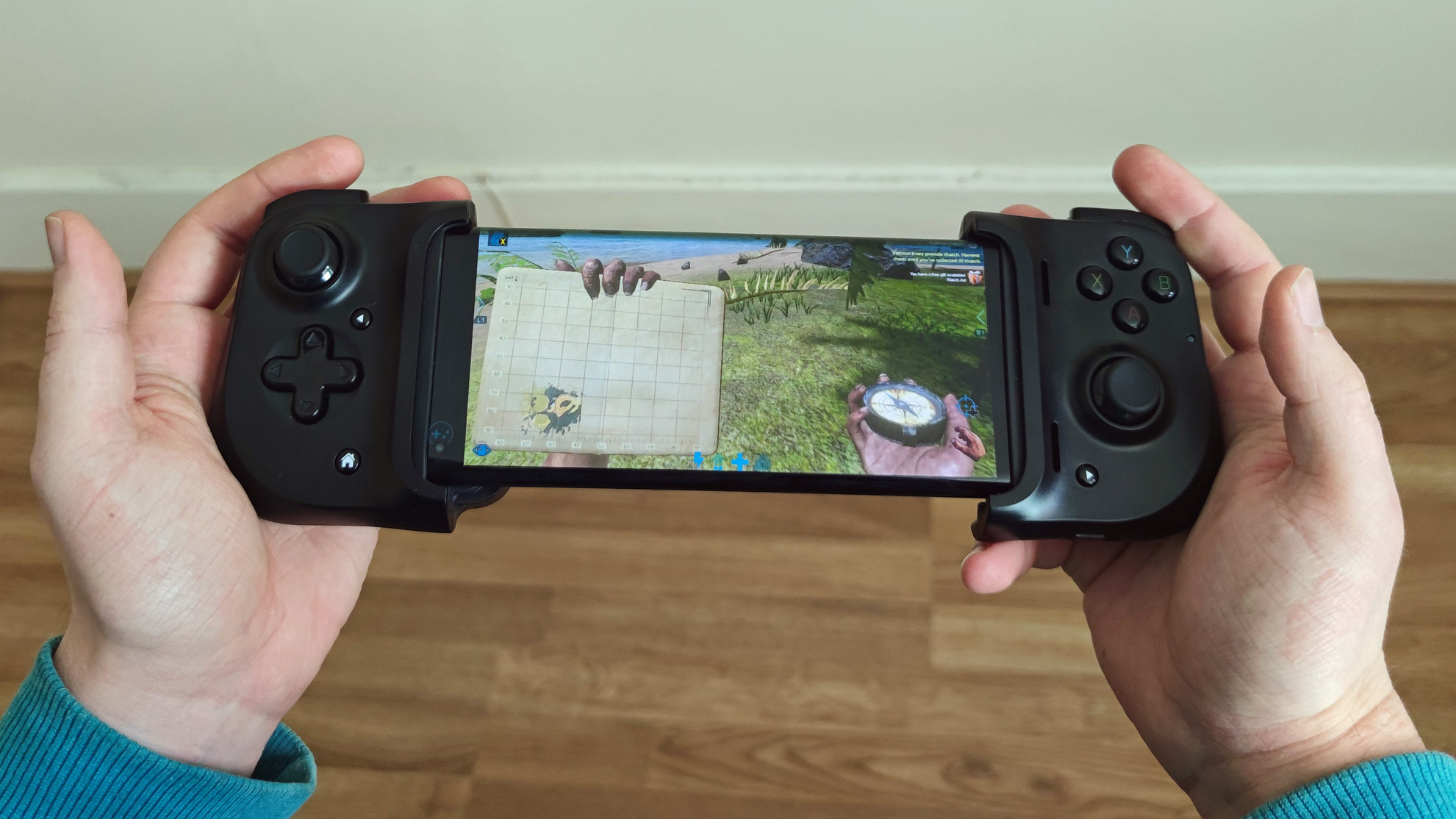 We think that the Razer Kishi is the best Xbox Game Pass streaming accessory if you've got an Android phone. Even though it's been replaced by a V2 model, the original still has a lot to offer. Arguably the most compelling reason to go with the first-generation is the price point, as it's now entirely possible to get your hands on this Junglecat successor for just $39.99 / £64 in the US and the UK respectively.
Regardless of that substantial of a discount though, you're likely always guaranteed to find it substantially cheaper than the original launch MSRP of $79.99 / £79.99 depending on where you are in the world. In our testing, we found that the Razer Kishi is a remarkably built and tactile mobile controller which benefitted beautifully from its sleek and small form factor.
We found that many different sizes of Android phone fit just fine inside the Razer Kishi thanks to its extendable nature, but some of the biggest ones on the market may struggle. In our opinon, we found this gamepad to be every bit as hardwearing and ergonomic as the current Xbox Wireless Controller and the DualSense models in terms of buttons and sticks as well. If you game on the go and use an Android phone, you can't do much better at this price point.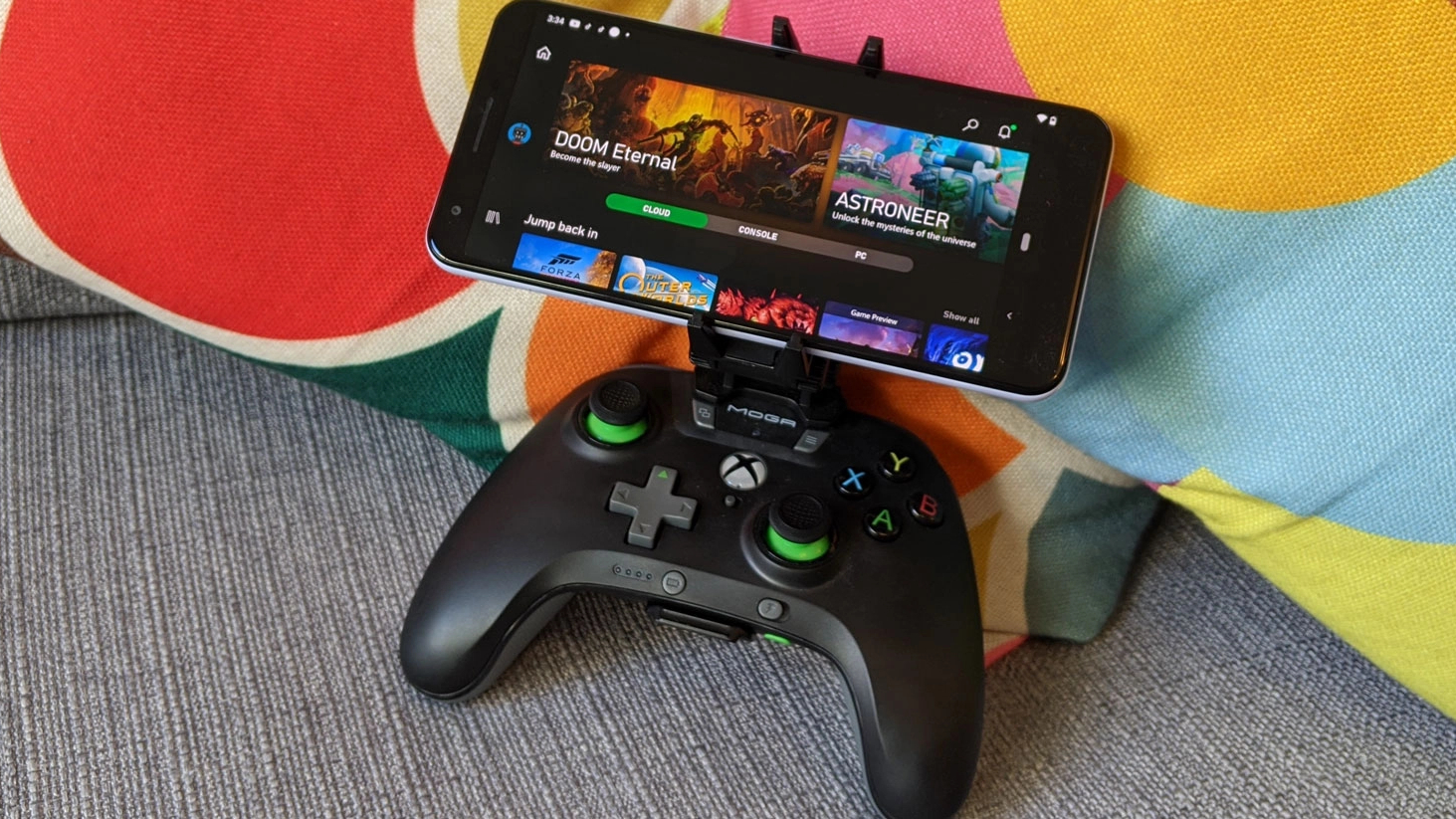 The PowerA Moga XP5-X Plus looks like an Xbox Series X Controller, but this is 100% a pad for streaming on the go. It's a Bluetooth controller with a clip-on phone holder that offers 220 degrees of rotation. This effectively means you can angle the screen as you like, thanks to the dual hinge mechanism in the phone stand.
With its reasonable asking price of around $55 / £51 depending on colorway, the PowerA Moga XP5-X Plus is the full package as you're effectively paying less for a dedicated controller and a clip than you would for both together in most instances.
It accommodates phones up to 79mm wide, which covers the majority, including some housed in their cases. So why opt for the Mega XP5-X when you could pick up Xbox's official pad and a clip-on accessory for less? Because it comes with a 3,000mAh power bank, so you can play without killing your phone's battery.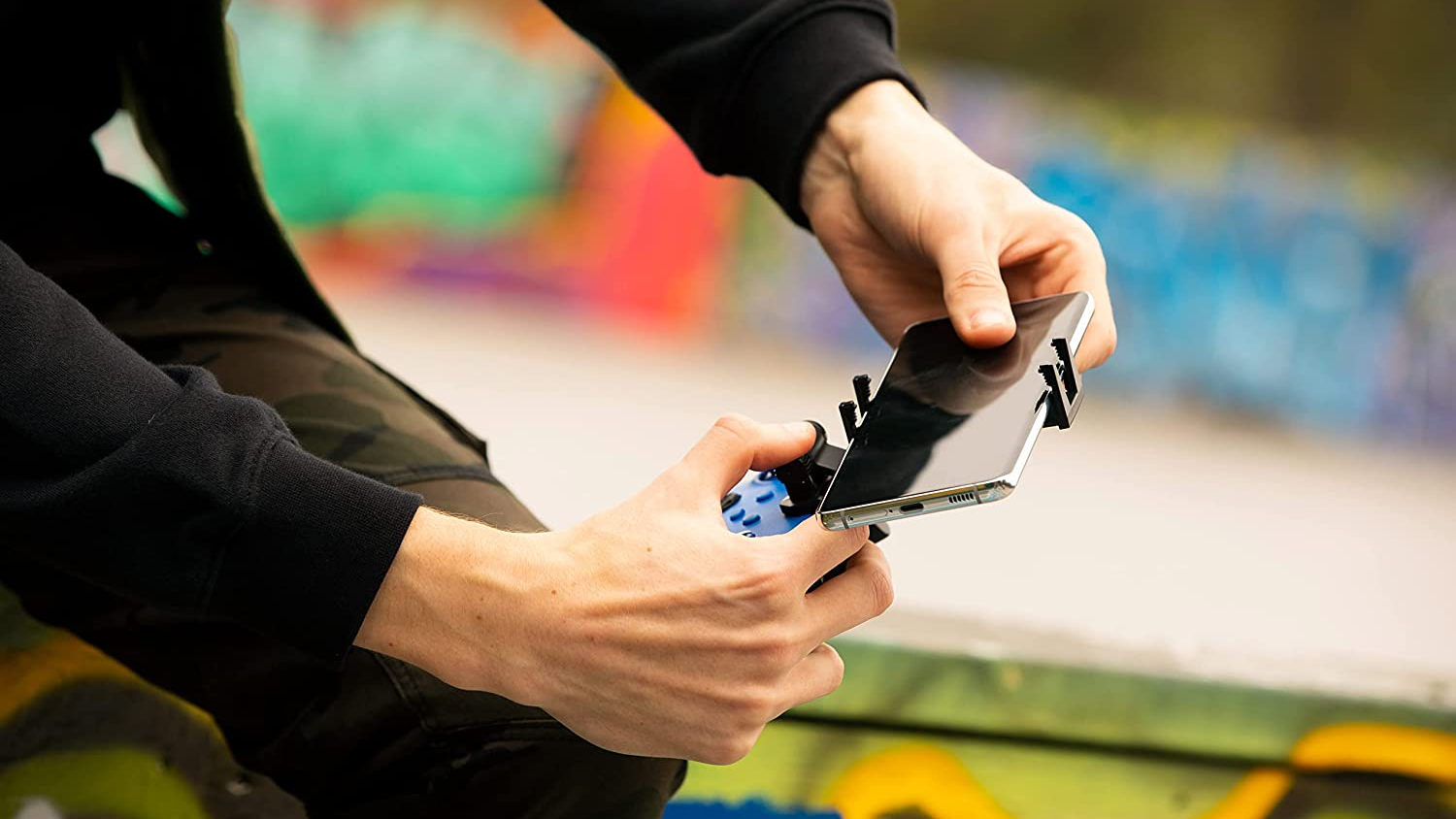 In terms of the best cheap Xbox Game Pass streaming accessory, the PowerA MOGA Mobile Gaming Clip 2.0 is a hard value proposition to argue against. Priced at $14.99 / £9.99, this revised addon for your existing Xbox gamepad attaches to the top and holds your phone in place ready for gaming on the go.
As the name may suggest, this is the second edition of what we consider to be the best clip of its kind and that's thanks to its durable nature and ergonomic fit for the latest Microsoft controllers on the market right now. If you're looking for something cheap and cheerful that does the job from a reliable brand then we can wholeheartedly endorse this one for what it is.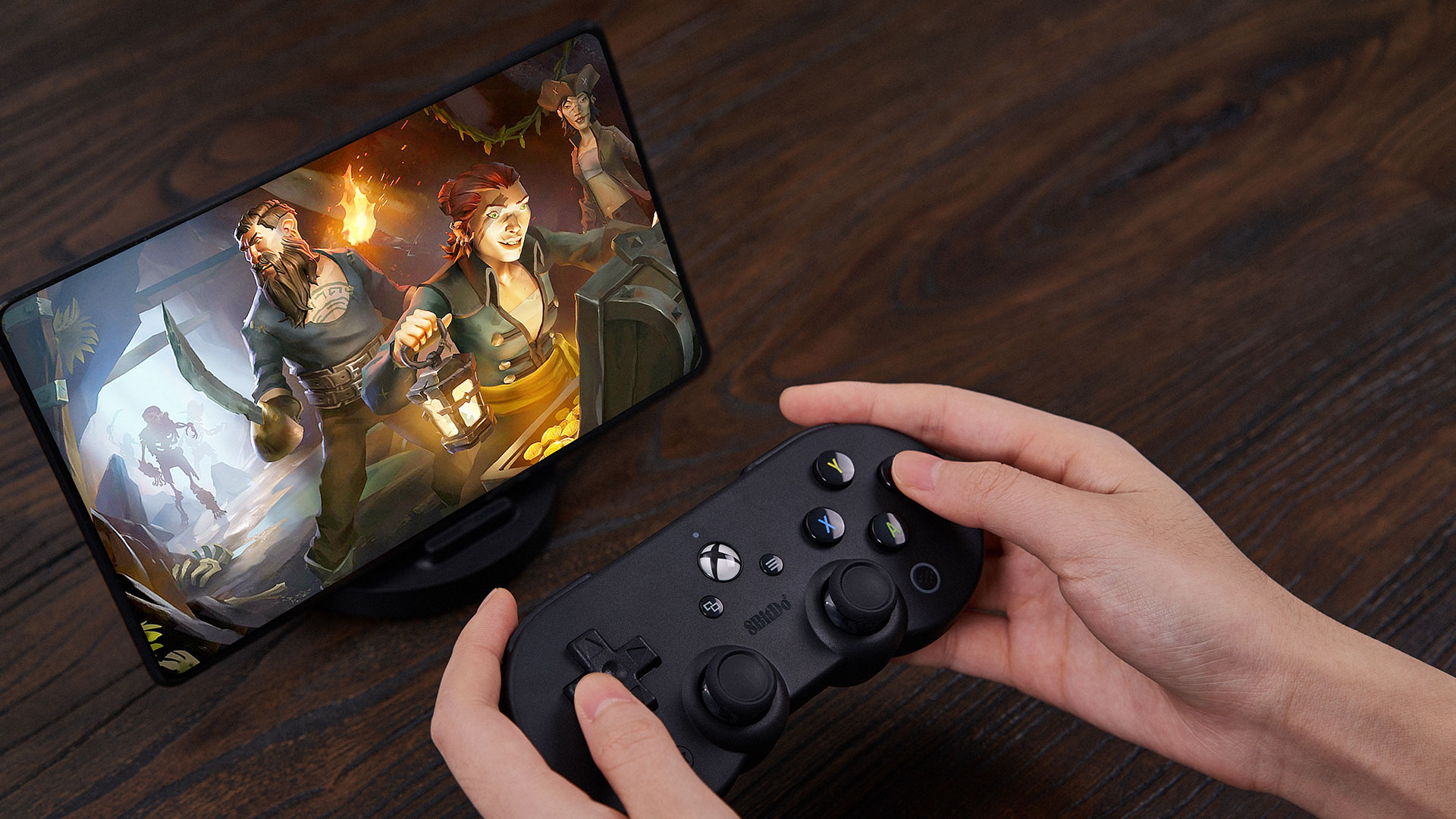 8Bitdo is a purveyor of fine third-party pads for many platforms, which bear resemblance to SNES controllers. All use the same core hardware, but hunt down the specific "for Xbox Cloud Gaming" unit to pair with Xbox Game Pass. It features the iconic Xbox button, an (almost) all-black paint job, and comes with the 2-axis clip that connects the pad to a phone.
Other than some remnants of retro charm, its size is a key appeal: the 8Bitdo SN30 Pro For Xbox Cloud Gaming is smaller than an Xbox pad. This makes it handy for portable use. In addition, it weighs just 111g, which is less than half the weight of an Xbox One Controller without batteries, and the 8Bitdo SN30 Pro For Xbox Cloud Gaming has an 18-hour lithium rechargeable battery built in.
Again, that's great for bag-stashing, but not ideal for balancing a larger phone, which could easily weigh 200g on its own. Despite its small size, the 8Bitdo SN30 Pro For Xbox Cloud Gaming makes room for all the primary Xbox pad buttons, including dual triggers on each side.
Best Xbox Game Pass Streaming Accessories - FAQs
What devices work with Game Pass streaming?
Game Pass streaming works on pretty much any device that has a display and can run through a solid internet connection. For many, this could be the smartphone in your pocket, but as there's no processing power involved, you can also use the likes of a work laptop or a Chromebook, too.
Can I play Game Pass without an Xbox?
You don't necessarily need an Xbox Series X or Series S to enjoy Game Pass as any device capable of streaming the service gets you access to over 300 titles. You may have the best experience from a pick up and play point of view if you're also a console gamer, but that's not strictly necessary here.
How fast does my internet need to be for Game Pass streaming?
Microsoft recommends a high speed internet connection of at least 10 Mbps on mobile devices and 20 Mbps on console, which is fairly average and less demanding as rates go. Of course, a faster connection is going to mean a smoother experience in a higher resolution, so if you've got rates far above these then you will be absolutely fine.