Nintendo Switch OLED vs Nintendo Switch: what's different?
The Nintendo Switch OLED has a more pleasing design than the original LCD version, with a larger, more vibrant display, enhanced audio and double the internal storage - still no 4K though.
For
Larger 7-inch screen
Perfect blacks; accurate colors
Speakers sound fantastic
Against
No upgrades in TV mode
Internal specs remain the same
Durability concerns still
The most recent Nintendo Switch equals the OLED version on performance, screen resolution and battery life are equal. But you miss out on the larger screen and more immersive experience.
For
Cheaper than the OLED
Bright, crisp, colorful screen
Same performance
Against
Display isn't as vibrant
Larger bezels
Looks a bit dated now
The Nintendo Switch vs Nintendo Switch OLED is a vital conversation to be held by hybrid console fanatics. Both consoles showcase the home and handheld capabilities, but with the Nintendo Switch starting to show its age, the OLED steps up. But is it worth spending a little extra money for the sake of a prettier display?
The launch of the original Nintendo Switch console in 2017 was pretty revolutionary, and it still manages to showcase some reasonably impressive graphics in today's digital climate. Although it doesn't offer much when placed next to a PS5, it still has its quirks. So even though the Nintendo Switch OLED doesn't improve performance but focuses on graphical fidelity and appearances, the pair still have a lot to battle out when compared.
These aren't the only two options, though. The Switch Lite also launched back in 2019 as a handheld-only option, lacking the regular Switch's removable Joy-Con controllers. For some people keen on the hybrid design of the original Switch, that's a major deal-breaker. For those interested only in playing remotely or playing handheld games, it's a cheaper option. In 2019, Nintendo also released a refreshed version of the original Nintendo Switch, boasting an improved battery life.
In this guide, we'll look at why the Switch OLED is a better option than the original LCD version, and the other upgrades you get if you choose the Nintendo Switch OLED. Though that doesn't necessarily mean the original Switch isn't right for you. Read on to find out more.
Nintendo Switch OLED vs Nintendo Switch: Price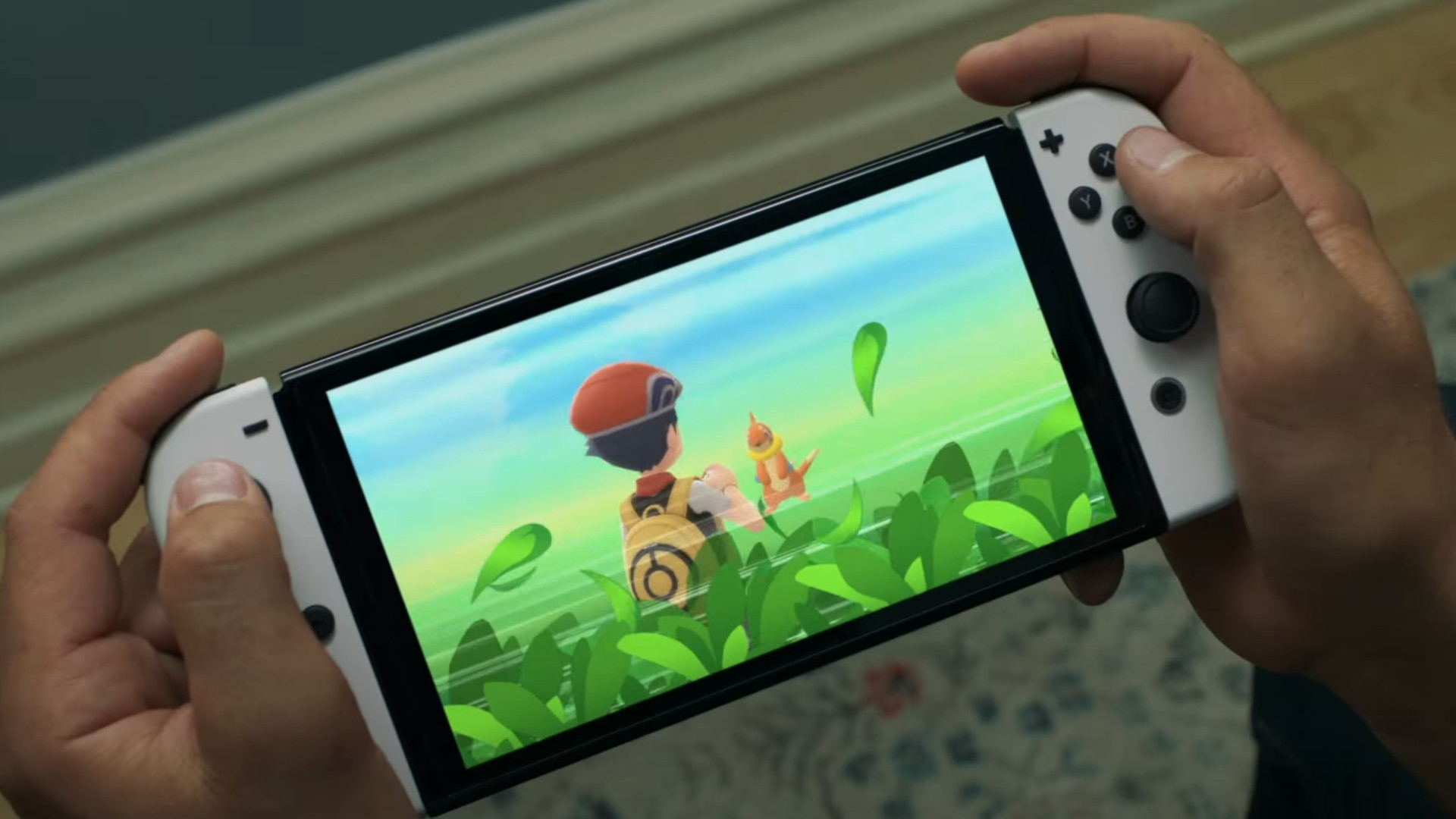 The Nintendo Switch OLED costs $350 / £309 / AU$539, and was released on October 8, 2021. That's $50 / £30 / AU$90 more than the original Nintendo Switch was at launch, which instead costs $300 / £279 / AU$449. However, since the OLED's launch, the original model saw a small price reduction, now retailing for £259.99 / $259.99 / AU$435 instead.
Given their popularity, we rarely see either model enjoy discounts. That applies for most current-gen consoles these days, but below, you'll find a roundup of any Nintendo Switch deals that are live right now.
Nintendo Switch OLED vs Nintendo Switch: Design
The Nintendo Switch OLED looks similar to the original Switch after its 2019 refresh. It has removable Joy-Con controllers, the same button layout, and even offers that familiar bright Neon Blue and Red color scheme.
However, the version you've likely seen online for the Switch OLED is the new White version. This more sedate, grown-up color scheme is the sort of garb we expected to see from the rumored Nintendo Switch Pro. The Switch OLED may not be the Switch Pro, but this is the closest we'll get for now. Many of the leaks previously believed to point to the Pro are found in this redesign.
You'll find some other important design changes, too. The thick bezels of the original Switch's display have been significantly trimmed down, and the 6.2-inch LCD panel has been replaced with a vibrant 7-inch OLED panel.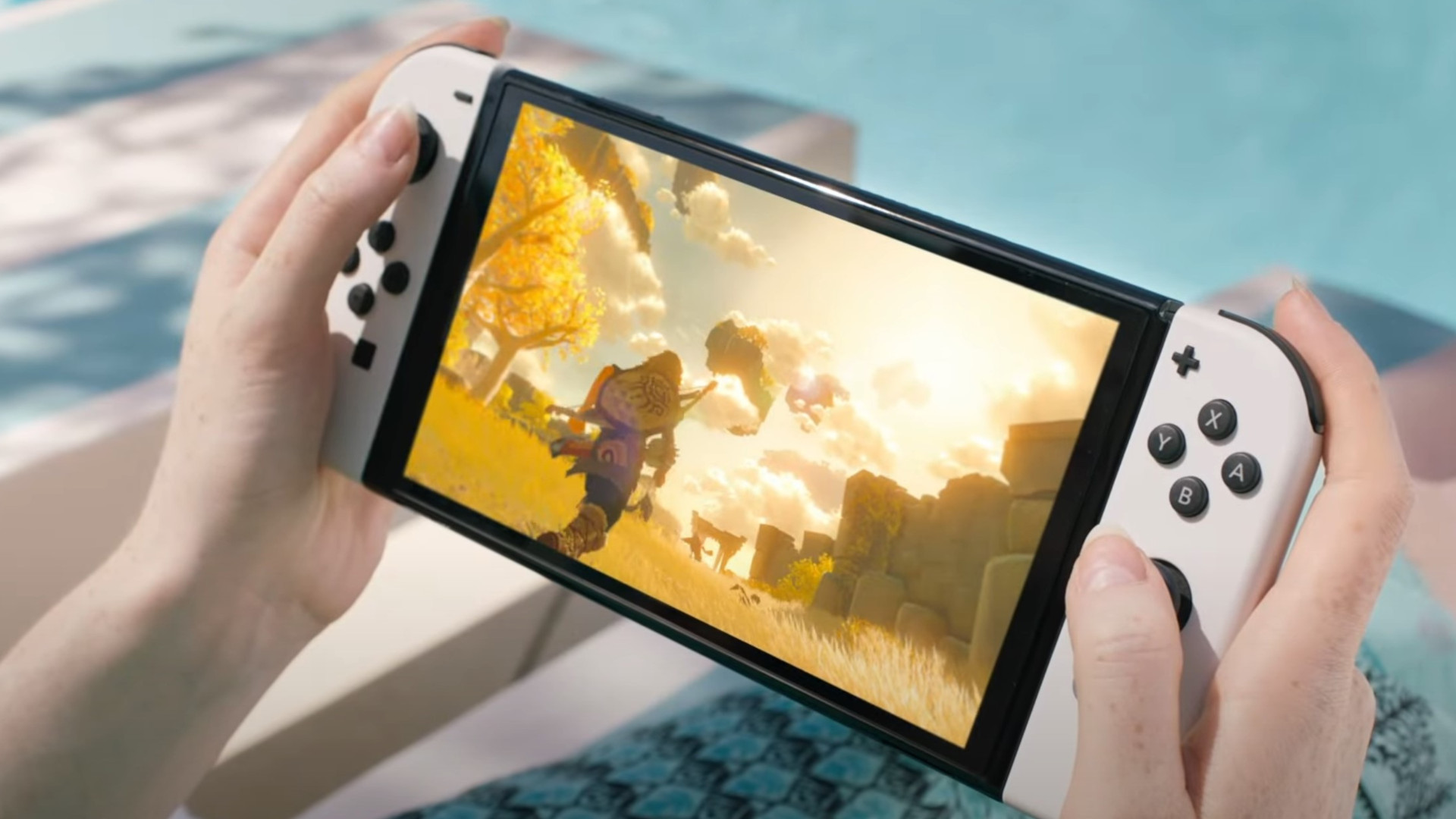 This gives the new Switch a less-dated appearance and means there's no significant difference in size with the new model, despite the use of a larger screen. It's 0.1 inches longer, at 9.5 x 0.55 x 4 inches (W x D x H).
Because of that, any Joy-Con controllers you previously bought will work just fine with the Nintendo Switch OLED. Assuming they weren't previously suffering from notorious Joy-Con drift, that is. The new console uses the same 'rail' system for such accessories.
Nintendo has reworked the Switch's kickstand to make it much less fragile, too. It now runs across much of the console's back, which we found keeps it upright more securely. The stand is also adjustable as well, allowing for different display angles when playing in tabletop mode.
You wouldn't know it from a glance but Nintendo also redesigned the Switch OLED's speakers. They still sit on the bottom of the handheld, one to each side, and offer enhanced audio over the original speakers. They're far punchier, more impactful, and don't distort at maximum volume.
Image 1 of 2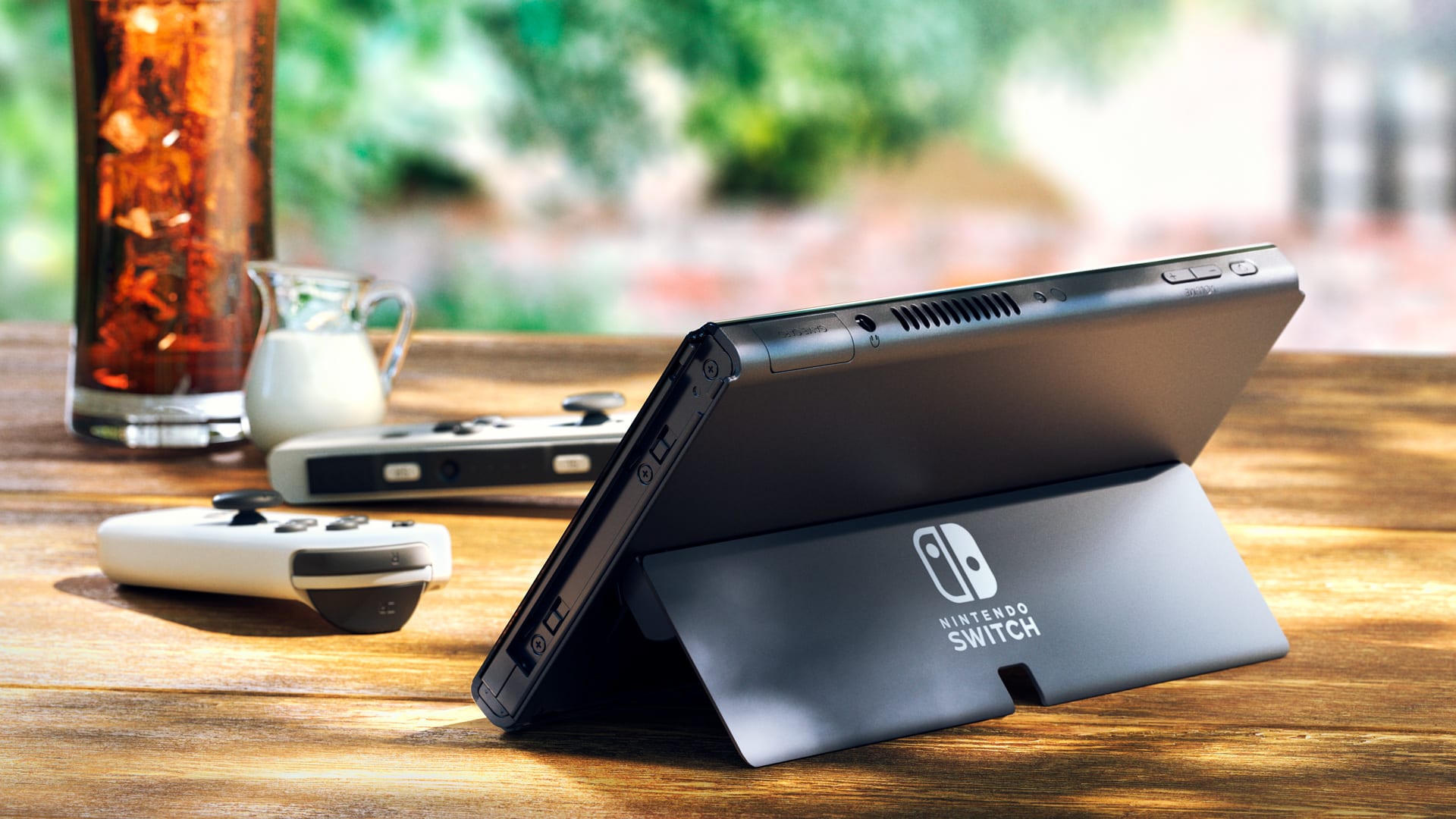 Image 2 of 2
As before, the OLED Switch comes with a dock to let you play games on your TV. However, it does not offer the 4K output many hoped for in a Nintendo Switch Pro console. Playing docked and 1080p remains the max output resolution, and the display is 720p when playing in handheld mode.
An Ethernet (LAN) port is the extra we do get. tgake a cable from your home internet router and plug it into the dock for a more reliable signal than you'd see from the Switch's own Wi-Fi connection. You can still get a wired internet connection when playing docked on the original Switch, but this requires buying a separate LAN Adapter.
Nintendo has doubled Switch OLED's internal storage from 32GB to 64GB. Like before, you can also add a microSD card for Nintendo Switch if you need more room, supporting up to 2TB of extra storage. Battery life remains the same as the refreshed Nintendo Switch at 4.5 to nine hours. This is better than the launch Switch's 2.5 to 6.5 hours, but the OLED Switch brings no real improvement here.
There's numerous accessories you can get to upgrade your experience with all versions of the Nintendo Switch console, but we particularly like the ZenGrip Pro OLED. This adds handles to the console while in handheld mode, making it easier and more comfortable to hold since it's otherwise completely flat.
Nintendo Switch OLED vs Nintendo Switch: Display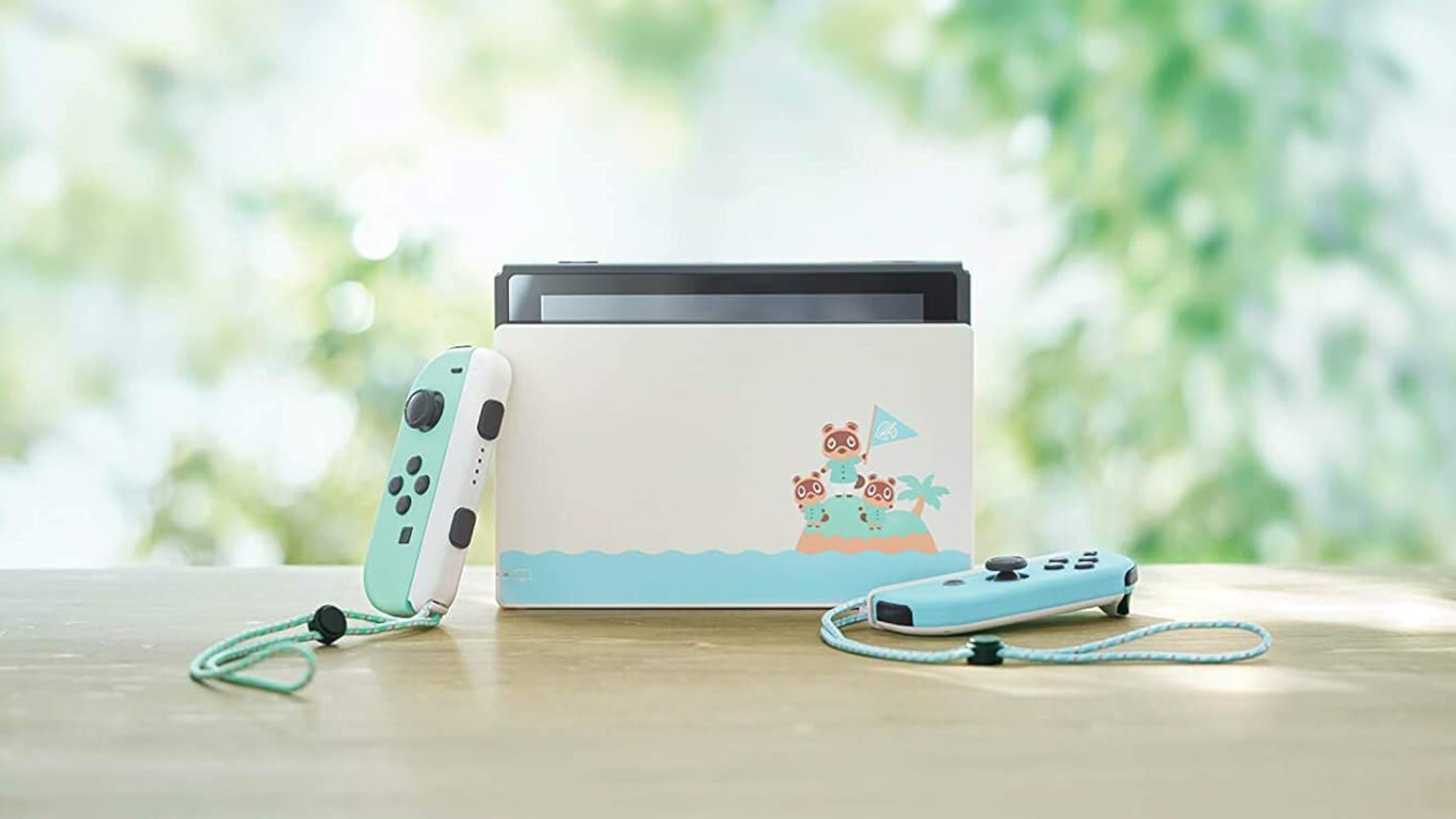 Here's the interesting part: the new Nintendo Switch has an OLED screen. These display panels have emissive pixels, which means black parts of the screen image will look perfectly inky black even if you play under the covers in perfect darkness.
With a standard Nintendo Switch, blacks end up looking slightly gray in these conditions. The OLED Switch is much better for bed-time gaming than the old model, helping Nintendo's already colorful art style stand out even more. This is also the largest screen put into a Switch console yet. It measures 7 inches across, up from the 6.2 inches of the original Nintendo Switch and the 5.5 inches of the Switch Lite.
Just be aware that there is no change in resolution. The Nintendo Switch OLED remains a 1280 x 720 pixel display. Many had hoped for a bump to 1080p (and there were even rumors of a 4K offering) in this "next generation" design, but that never materialized.
Nintendo Switch OLED vs Nintendo Switch: Power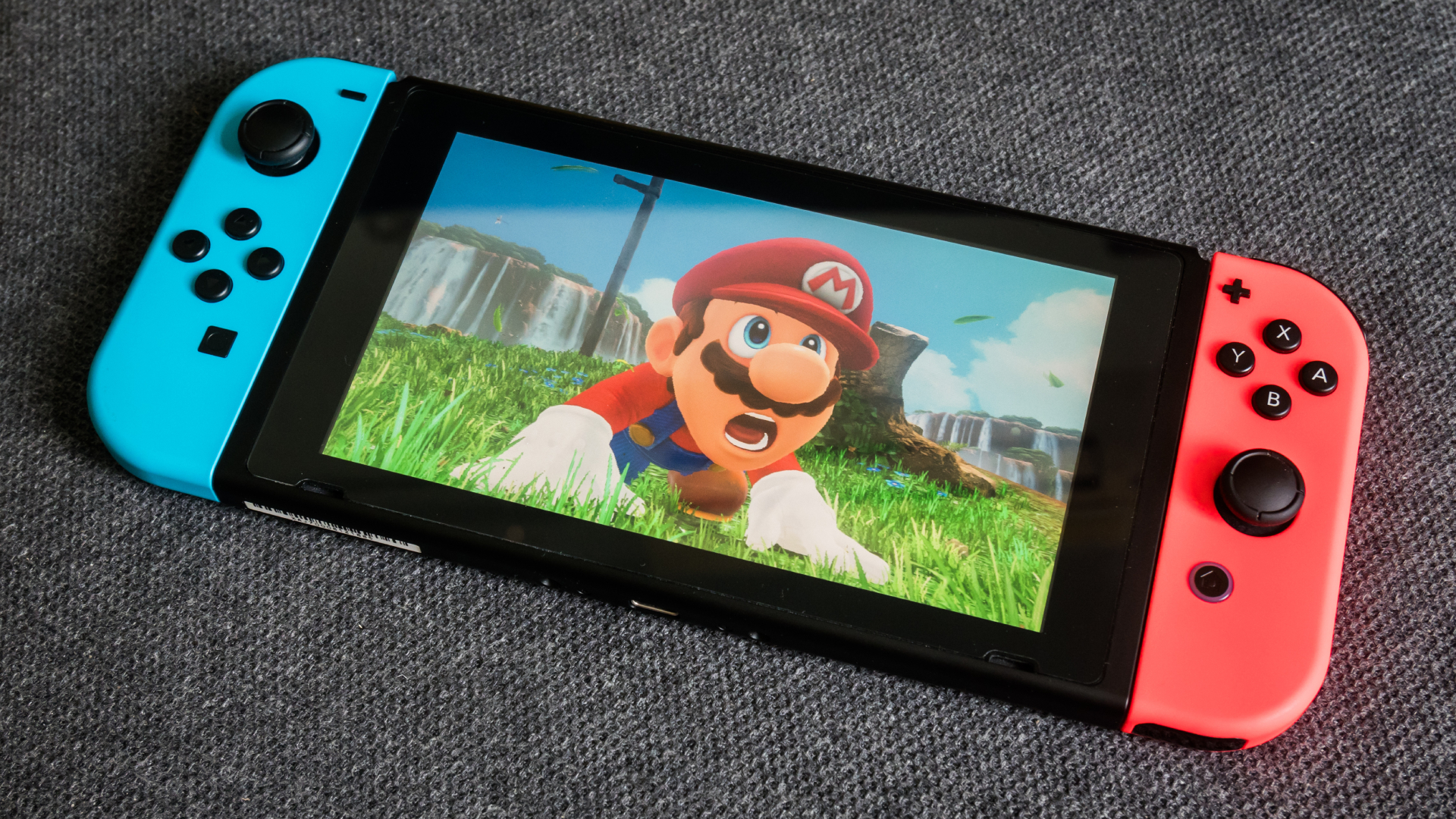 While the OLED screen makes games look richer, bolder, and more immersive than before, the new Switch console doesn't boost performance in any way.The Switch OLED has the same Nvidia Custom Tegra processor and RAM as the standard Switch model, so there's no performance upgrade under the hood.
That means it won't unlock any new potential for developers to bring more comprehensive games to the new console. As such, it can't really be compared to previous mid-generation console upgrades, like the New Nintendo 3DS, PS4 Pro, or Xbox One X. What it does mean though, is the Switch OLED will be able to play all the same games as the Switch - and vice versa.
Nintendo Switch OLED vs Nintendo Switch: Verdict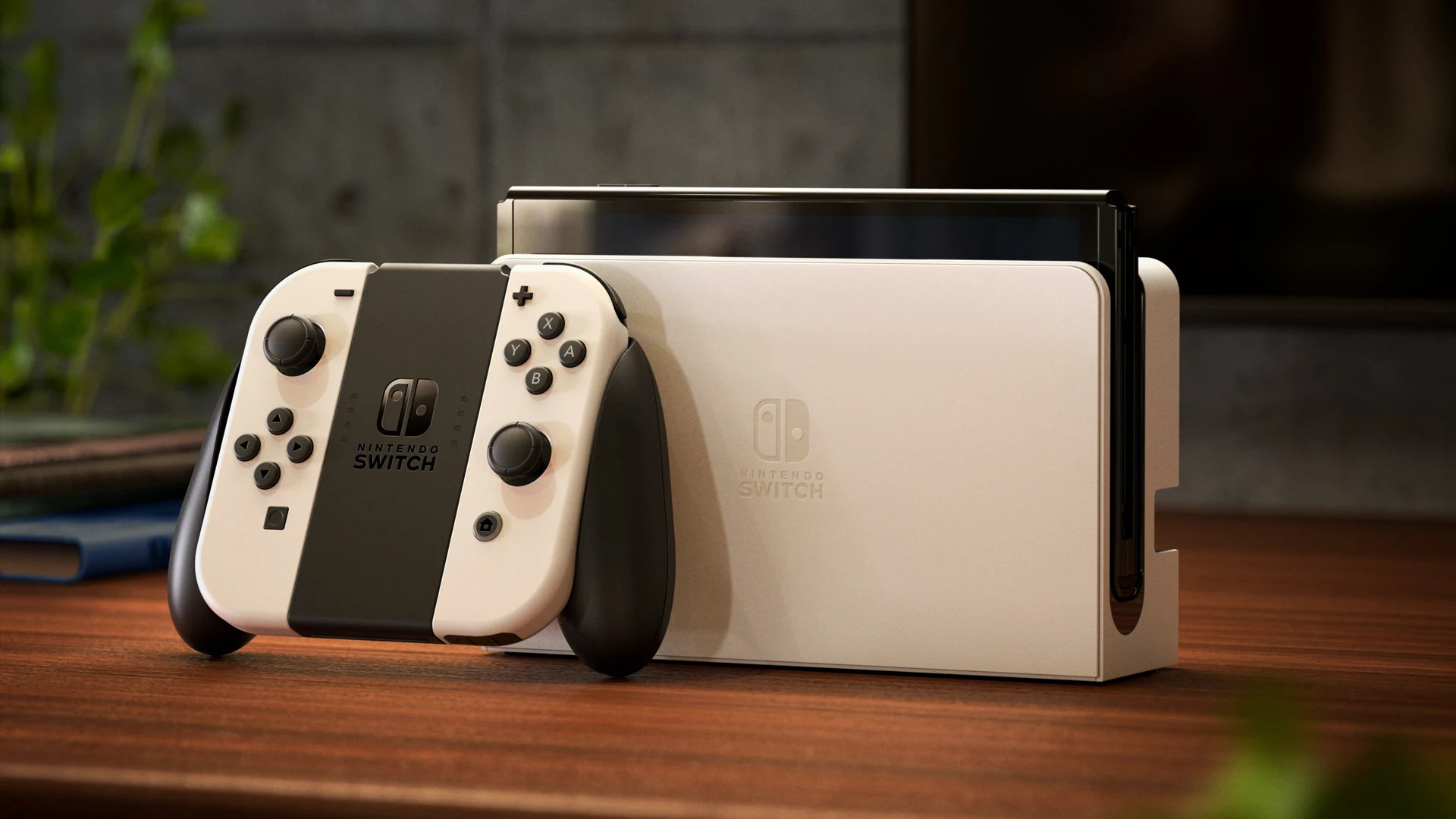 If you were hoping for a Nintendo Switch Pro with a 1080p screen and 4K output to your living room TV, the Nintendo Switch OLED won't meet that demand. Games will feel the same, but at least they look prettier when playing in handheld mode and tabletop mode, which is the main draw.
So, if you're mostly playing docked, Switch OLED doesn't offer much new. The Ethernet port on the dock is welcome, as is the increase in storage to 64GB, but ultimately, we'd say the Nintendo Switch OLED is a clear case of evolution over revolution.