Sony claims PSVR 2 is selling okay, actually
PSVR 2 is on track to outsell its PS4 predecessor. At least, it is according to Sony itself.
PSVR 2 has been on the market for just over three months now, and we finally have accurate sales figures. During a business webcast, Sony was able to share sales figures for the PS5-based VR headset, specifically for its first six weeks on the market.
The webcast presentation claims that Sony was able to shift 600,000 PSVR 2 units in its first six weeks. That would be from its February 22 launch to around April 5, 2023. According to Sony, that's 8% more than the original PlayStation VR managed across the same period of time (via VGC).
Sony's numbers here reflect CFO Hiroki Totoki's earlier statement regarding PSVR 2's sales. Totoki stated back in March that PSVR 2 has a "good chance" of outselling the original hardware. PlayStation VR managed a lifetime sales figure of around 5 million units.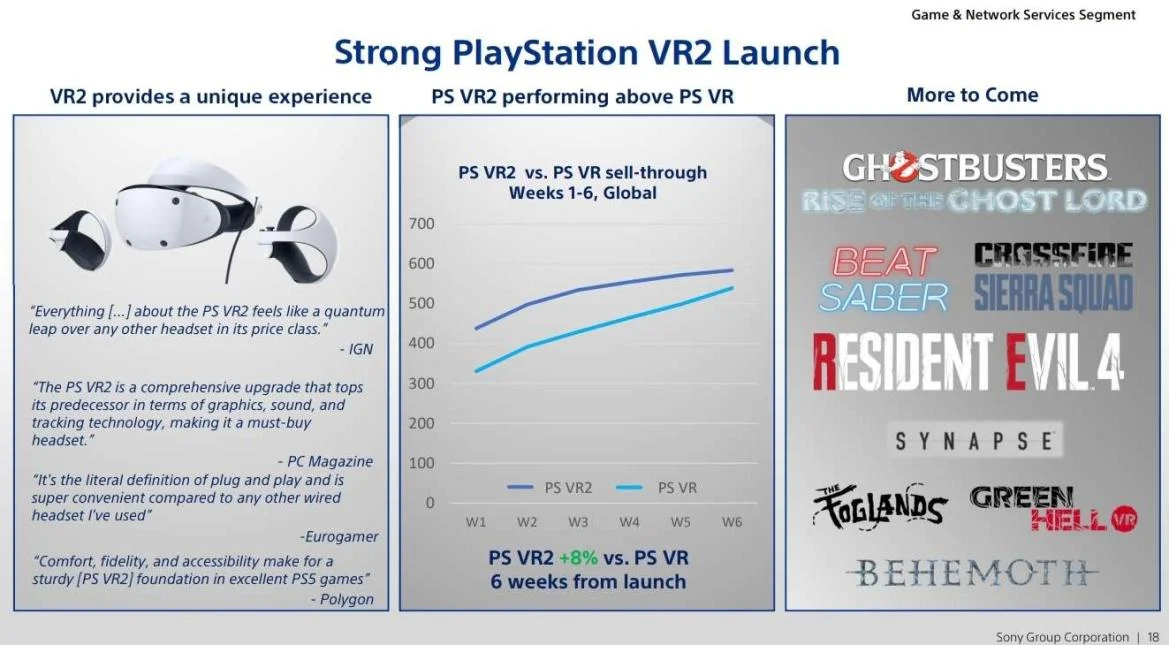 Sony's report is certainly much more positive than that of some analysts. After reportedly poor pre-order performance, an unnamed supply partner claimed that Sony had shifted PSVR 2's financial year target to 1.5 million units, down from 2 million.
Additionally, notable VR analyst Francisco Jeronimo posited that due to circumstances like the rising cost of living, "VR headsets are not top of mind for most consumers under the current economic climate." Jeronimo added that PSVR 2 could use a price cut if Sony wished to "avoid a complete disaster."
As to who's really correct here between Sony and analysts, the answer's likely somewhere in the middle. Sony will need to present good sales numbers to appease investors, but the company's positivity and commitment to PSVR 2 suggests the headset could be faring better than analysts are hypothesizing.
SIE president Jim Ryan recently stated that it's too early to judge PSVR 2's market performance, suggesting Sony is committed to the growth and demand of its VR headset.
This, and the fact that PSVR 2 games will have a notable presence at the upcoming PlayStation Showcase, does at least signal that we probably haven't seen PSVR 2 in its final form. It could certainly do with a few more exclusives, though.